Perspectives on leadership – video series
There are many different approaches to leadership. But what makes a strong leader?
We ask these business leaders for their perspectives on leadership in our video series. They reflect on their experiences leading through COVID-19 and on what their priorities will be for the challenges ahead.
Belinda Youngs
CEO, Cooplands Quality Bakery
Join Belinda as she reflects on the qualities of a strong leader and how she personally approached leading her staff through the COVID-19 crisis.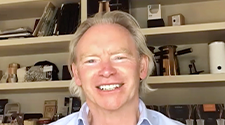 Angus Thirlwell
CEO and Co-founder, Hotel Chocolat
Find out what Angus thinks people are looking for from their leadership and how he maintained staff motivation through COVID-19.
Nigel Whitehead
Director of External Affairs, BAE Systems and Be the Business PLG member
Join Nigel to hear what benefits strong leadership can bring to an organisation, large or small.
Mashood Akmal
Director of Innovation and Strategy, Aeroservices
Find out how Mashood approached leadership in the face of COVID-19 and what his top tip is for other leaders.
Be the Business's Leadership Pathway Programme
If you want to focus and reflect on your own leadership, following a structured programme could help.
Our strategic partner Be the Business has created a Small Business Leadership Pathway Programme in conjunction with the Institute of Leadership and Management. The programme offers a range of information, tools and assessments on topics from resilience to decision making and has 1,000 free places for UK-based business owners and managers.
Find out more about the Leadership Pathway Programme.
Be the Business
We're working with Be the Business to help businesses across the UK recover and rebuild.
Find out more about Be the Business.
While all reasonable care has been taken to ensure that the information provided is correct, no liability is accepted by Bank of Scotland for any loss or damage caused to any person relying on any statement or omission. This is for information only and should not be relied upon as offering advice for any set of circumstances. Specific advice should always be sought in each instance.